Is It Too Real For Ya?: Fontaines DC as an Irish Neoliberal PSYOP
by Gary Solonely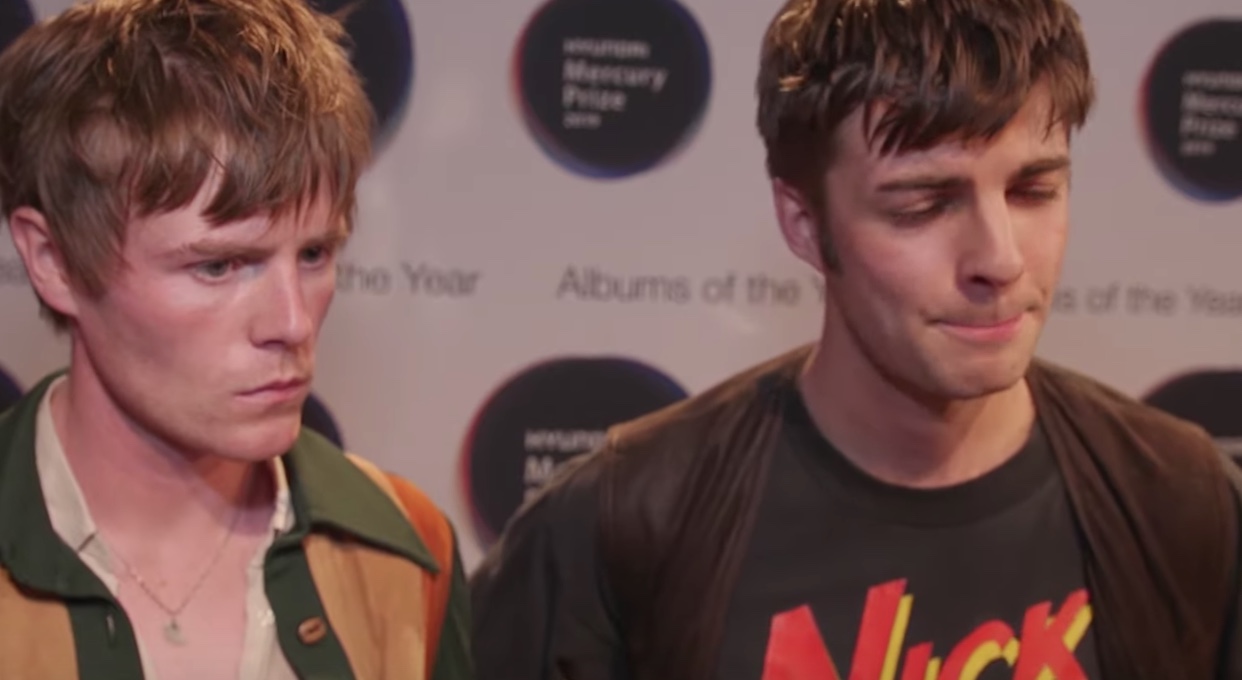 Fontaines DC have, over the last year and a half, been quickly propelled into the canon of Irish popular music, filling the ever present space for the current guitar orientated band music within the charts and drivetime radio airwaves. They follow on from the likes of Kodaline, The Script, and The Coronas in this lineage. Although, within this lineage they are somewhat distinct from their predecessors as they have managed to obtain some acclaim not only from the general Irish public & mainstream media, but also from what are considered the more engaged & critical audiences at home and abroad. Demonstrated by an appearance on The Tonight Show with Jimmy Fallon, a string of performances at the most recent Glastonbury, and their debut LP, Dogerl, receiving a nomination at this year's Mercury Prize.
Zooming in, some subtle but important contextual and theme distinctions exist between the Fontaines and their predecessors. For their part, The Script and The Coronas came to prominence post 2008, during the global recession. These bands mouthpieced a generation's exodus from Ireland toward the US and Australia, with general platitudes of adventure and middle class lets-make-it-work sentiments. The music was lukewarm, uplifting, and basically accessible guitar & keyboard pop that worked to romanticise a sense of loss and struggle for a technically educated & qualified section of the population.
These recession era bands were rarely mentioned in the higher shelf mags, or online outlets, and appeared on the likes of Britain's Got Talent, and X-Factor, and headlined Oxygen repeatedly. Their continental success was largely fabricated, and only a projection of, and appeal to the Irish expat population abroad with videos heavily laden with hard-times-holiday scenery, and explicitly set on location in the likes of New York, and San Diego.
For the Fontaines, this is where the interesting distinctions begin. These previous bands appealed to a generalised group of everyday laypeople, whose identity was totally unspecific and middle of the road high street, all the while being kept tied together through the collective struggle of making it work abroad during economic downturn. The Fontaines however are tailored towards the mass of styled-by-ASOS individualists native and resident to a re-booming Ireland heavily characterised by inequality and neoliberalisation.
Exploring the themes of Fontaines DC's music, the subject matter is heavily saturated with salt of the earth notions, along with a rose tinted perspective of a mythical Irish underclass. The music itself is a fast paced guitar and drum driven backing track to lyrics dictated in a spoken style, and portrayed with a deadpan disposition. The Fontaines have worked hard in the media to explicitly assign themselves with the traits of punk and trad, the tropes of which can be heard superficially throughout their songs. In interviews the Fontaines repeatedly glamourise these genres as real due to their association with poverty, and rebellion.
Throughout these interviews they also frequently mention their fondness for The Liberties area of inner city Dublin, an area they claim has been so far largely untouched by gentrification, recounting how their bonds were formed there with one another drinking and writing poems together in the pubs, and commingling amongst the "mad people" of the area around Meath Street and Thomas Street as if it were an open zoo.
The Fontaines diverge further from their predecessors insofar as the likes of The Script, and The Coronas who were unashamedly and explicitly appealing to a mainstream demographic in a happy go lucky manner; Fontaines DC present themselves as a counter to those sentiments, and form, on the surface, a ready made expression of discontent toward the faceless perpetrators of inequality.
This counter sentiment is exemplified by the repeated, and seemingly prescribed mentioning in their interviews of how Dublin's character is being destroyed by redevelopment and gentrification, how people are being pushed out of the city by increasing rents and costs of living. A sentiment which in this unequal re-booming of Ireland, not just the working & precarious class can relate to, but one which the middle class can also now recognise.
You may ask what the problem is with the Fontaines raising this perfectly valid discourse with their platform. The problem arises as you begin to trace the organisations and people involved in the management of Fontaines DC.
Fontaines are managed by Trevor Dietz. Trevor is also the manager of The Workmans, and Garage Bar; two bar venues in Dublin's city centre. Both of these bars are operated by the Press Up Entertainment Group, of which Dietz is an employee. Press Up operate a large amount of bars, venues, restaurants, and hotels around Dublin.
In a very strong sense of the word, Press Up are one of the major gentrifiers of Dublin. Their venues operate in a completely decontextualized and ahistorical manner in relation to the areas and communities they exist in. The portrait of character they try to create through their venues is completely fabricated, and attempts to co-op cultures or genres in appearance only, and in a way that's easily instagramable, primed for LovinDublin lists, and most importantly - extremely profitable.
Press Up is run and owned majoritively by Paddy McKillen Jnr. and Matt Ryan. McKillen Jnr. and Ryan also own the Isle of Man registered Oakmount development company. Through Oakmount, McKillen Jnr. and Ryan purchase properties around Dublin and quickly refurb, or totally knock and rebuild buildings with their typical modern glean. Once the buildings are refurbed, the lease is then handed to Press Up to install a prefabricated and pre-aged fitout in the style of whatever trend has their, and the public's attention at the time.
Between them, Press Up and Oakmount's portfolio include the Stella complex in Rathmines, The Lucky Duck on Aungier Street, the Cleary's building on O'Connell Street, 61 Thomas Street (currently student accommodation), Tomahawk Steakhouse, Bison Bar, Dollard & Co., the Wagamama franchise, The Dean Hotel franchise, and a litany of other hotel and office blocks around Dublin. Oakmount also recently sold the lease for the large 55 Fumbally property in the Tenters area of The Liberties, which previously housed a number of artist studios, to the global co-living space company The Collective. Oakmount are also currently developing a property on Dawson Street for the WeWork company, whose former director aimed to "elevate the world's consciousness" through shared-office work environments. Press Up also recently procured the leasehold for The Clarence Hotel, a property owned by Bono, The Edge, and Paddy McKillen Snr.
All these names and companies are some of the major nodes in a networked system of developers, investors, media figures, city councilors, politicians, and landlords currently working to completely reshape Dublin into a cosmopolitan buzzing hive of co-living, shared-workspace, app-centric gig employment, and a cloud data tech firm haven. Key to this is the bleaching of Dublin's inner city areas through policies which gut social resources in order to install a new branded culture of bars and restaurants ready made for incoming Trip Advised weekenders.
Where do Fontaines DC fit into all this? As Dublin, and Ireland broadly, is rapidly transformed, public discontent also begins to grow. As mentioned, this discontent is spreading not only throughout the working class but also growing up into the middle classes. For Press Up and Oakmount to be able to continue with their MO, they must control this discontent. If it becomes too prominent in mainstream discourse, a broad public movement could occur in a way that enacts change, and creates barriers to advancing their capital. And through Fontaines DC they are not only controlling the discourse, but also co-opting it in a way that furthers their profit.
In the same way they've created their venues, bars, restaurants, and hotels; Press Up have also created a band, and with that band covertly mainstreamed an extremely vapid form of discourse around the notions of culture, inequality, and gentrification. The discourse presented through Fountaine's music and media appearances is done so in a completely decontextualized manner devoid of nuance or any political detail whatsoever. However, for Press Up's ends, the substance of their talking points need only be just enough for the public to recognise, but not so much that they will act upon them in any meaningful way.
As the themes of the bars and restaurants allow the public to reminisce and act out a non existent nightlife, or genuinely diverse culture; Fontaines' sentiments serve in tandem to pacify this same audience as they attempt to figure out and express their subversions, while also cajoling them through shouted sing-alongs into feeling as if they are doing something about it.
Meanwhile, to further coax this newly agitated audience, the media outlets double down and send the talking points home. Una Mullally's Irish Times piece began reflecting the same general sentiments discussed here, only to take the twist of proclaiming the Fontaines as the heroes of this time; reassuring the readers that Dogrel proves "the city belongs to you, even if you can't afford a piece of it". Pitchfork's own 8.0 review of Dogrel, very succinctly, lets the world know that Fontaines are "lamenting the local communities and culture in danger of being steamrolled by the march of modernity".
With all this, the circuit shorts out and closes fully, allowing the free flow of contaminated info, and the cash streams to spin without any resistance whatsoever. For their part Fontaines DC (whether obliviously, or not), and the outlets which enable them, contribute not only to the neoliberal agenda broadly, but clear the way very efficiently for Press Up, and Oakmount's steamrollers of modernity.
This article was originally published in print by Brass Neck Press in issue No. 1 of the Brain Drain zine.